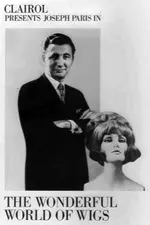 Leading the Hair Replacement Industry
for Decades
There are leaders in every field, and there are leaders who make their mark through innovation. Joseph Paris has enjoyed more than 40 years of success as a highly regarded wig designer because his innovations have continually impacted the entire wig and hairpiece industry throughout that time.
Joseph Paris's work has included writing a wig training manual for Clairol, creating wigs and hairpieces for film and television, and designing Medical Hair Prostheses for many private citizens for more than 4 decades to conceal their medically related hair loss.
Joseph Paris founded the yourHAIRx division of his company to focus solely on solutions for coping with medically related hair loss because he saw the need for a change in the prevailing attitude toward the psychological and emotional stress that men, women, and especially children experience when losing their hair due to a medical condition or treatment. His vision for yourHAIRx is to continue providing "The Ultimate In Hair Replacement" with his MHP Hair System design, along with education and support for all whose lives are touched by medical hair loss — whether it be their own or that of someone they love.
After 45 years, his company is New York City's oldest surviving wigmaker, and he continues to offer free consultations to people with cancer and Alopecia on a daily basis.
The Bald Truth About Hair Replacement – CBS This Morning
Lee Woodruff discusses the bald truth about hair replacement and today's image of a man's balding head with the "Toupee King," Joseph Paris.
"Toupee or not Toupee?" is the question discussed by Charlie Rose, Gayle King, and Norah O'Donnell on CBS This Morning.
Featured On CNBC's "The Big Idea"
Joseph Paris appeared on the popular CNBC show The Big Idea to discuss his long successful career in hair replacement and how his product differs from the rest of the market. Watch as he surprises host Donny Deutsch by revealing that he is wearing one of his own custom hair systems!
They also talk about the psychological benefit of wearing hair replacement and how Joseph Paris approaches the custom design process for each individual client.
Featured on Bloomberg News – The Bald Economy
Joseph Paris Naturally creates the most natural-looking custom hair replacement systems for each and every client. Whether you are interested in a hair replacement system because you want to look younger or you simply want to feel better about your appearance with hair, Joseph Paris can help.
Founder and Hair Replacement Expert Joseph Paris has designed custom hair systems for actors on stage and on screen, royalty, heads of state, and many private citizens. Each Joseph Paris hair replacement system is designed for each individual client, and our product is like nothing else available anywhere.
Simply put, it's hair so natural, they'll think you were born with it.
As Seen On New York City's PIX Channel 11 News
As the foremost authority on hair replacement and founder of the oldest single-owner hair replacement company in business today, New York's PIX Channel 11 News turned to Joseph Paris to talk about his long career designing custom wigs and hairpieces for film and television, as well as for private citizens.
Joseph Paris takes them behind the scenes in his New York City salon and gives them an opportunity to observe as he designs, cuts, and styles a new hair system for a client.