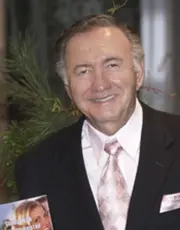 Book a Private Consultation
With Joseph Paris
Pictures may say a thousand words, but we can only speak from the heart. When you have a consultation with Joseph Paris, it is not a sales pitch. You can tell from the photos of our many satisfied clients depicted on this site that the quality of our custom hair replacement systems speaks for itself. Your private consultation is a chance to get all of your questions answered by the world's foremost authority on hair replacement and to allow him to make a recommendation to you about the type of hair system that is best suited to your degree of hair loss and lifestyle. At the same time, you'll have the opportunity to see samples of Joseph Paris's designs with your own eyes and even try one on. There is no obligation to buy, and Joseph Paris will only begin the design process if you decide you're ready.
It usually takes approximately 6 to 8 weeks to produce a custom hair system from start to finish, as each strand of hair is sewn in one at a time-- the same way it grows from your scalp. During your consultation, you will have the opportunity to observe Joseph Paris's staff at work, and all production is done under his supervision.
All consultations are held at our New York City office, which features a full-service salon with private rooms for clients and a caring and courteous staff. If you are unable to come to New York City for a consultation, please give us a call at (800) 374-4424 to discuss a video conference consultation via Skype.